From the crusty baguette of France to the soft naan of India, bread is a common thread in cuisines around the world. It's versatile, and delicious, and can be used in a variety of meals, from breakfast toast to dinner sandwiches.
Honestly, sometimes it's the best part of the meal. But one question that often arises is, how long does it last in the fridge? Today we'll answer all of your questions regarding this topic.
Storage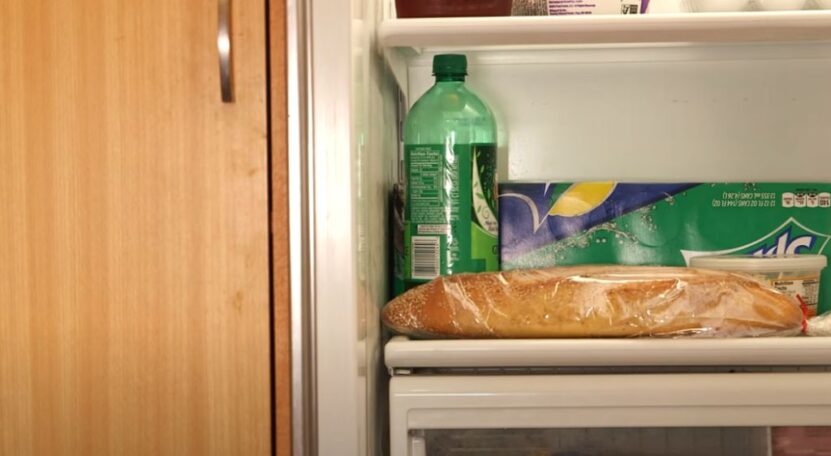 Storing bread properly is crucial to maintaining its freshness and preventing mold growth. Its enemies are air, moisture, and heat, which can speed up the process of staling and mold growth. When bread is exposed to air, it begins to lose moisture, leading to hardening or staling.
Excess moisture, on the other hand, can encourage the growth of mold. Heat can exacerbate both these processes, making your bread go bad faster. In the refrigerator, these factors are controlled to a certain extent.
The cold temperature slows down mold growth, and the enclosed space can limit air exposure. But does that mean it's the best place for your loaf? The answer is not as straightforward as you might think. Let's delve deeper into this.
What influences its Longevity?
Several factors influence how long bread lasts, including its type, ingredients, and storage conditions. For instance, a preservative-free artisanal loaf may not last as long as a commercially produced one. Similarly, bread with high moisture content, like certain types of rye or sourdough, may mold faster than drier types.
Storage conditions also play a significant role. A loaf stored in a cool, dry place with minimal air exposure will last longer than the one stored in a warm, humid environment. Understanding these factors can help you maximize its shelf life, reducing waste and ensuring you always have fresh bread on hand.
The Lifespan of Different Types of Bread in the Fridge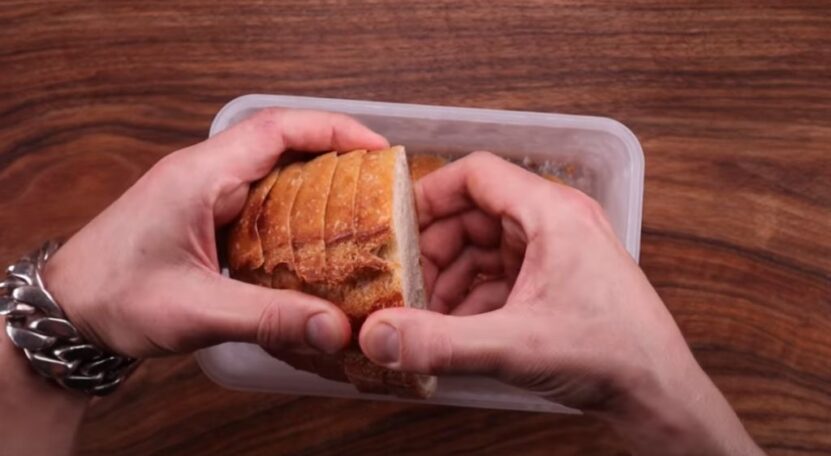 Different types of bread have different lifespans in the fridge. This is due to variations in their ingredients, preparation methods, and moisture content.
| Bread Type | Lifespan in the Fridge |
| --- | --- |
| White Bread | 7-12 days |
| Whole Wheat Bread | 7-12 days |
| Multigrain Bread | 7-12 days |
| Rye Bread | 7-14 days |
| Sourdough Bread | 7-14 days |
| Pumpernickel Bread | 7-14 days |
| Baguette | 3-5 days |
| Ciabatta | 3-5 days |
| Brioche | 3-5 days |
| Challah | 3-5 days |
| English Muffins | 5-7 days |
| Banana Bread | 5-7 days |
| Zucchini Bread | 5-7 days |
| Cornbread | 5-7 days |
| Artisan Bread | 7-10 days |
| Focaccia | 7-10 days |
| Pita Bread | 7-10 days |
| Tortillas (flour or corn) | 7-10 days |
| Gluten-Free Bread | 5-7 days |
White and Whole Wheat
These two types, when stored in the refrigerator, can last up to 7-12 days. They are typically made with a simple mixture of flour, water, yeast, and salt, and may contain preservatives if commercially produced.
However, they may start to lose their freshness after a few days due to accelerated staling. While the fridge can help prevent mold growth, the cold temperature can cause these breads to lose their soft, fluffy texture more quickly. Therefore, if you prefer your loaf fresh and soft, it's best to consume these within a few days of purchase, regardless of refrigeration.
Sourdough and Rye
Sourdough and rye bread, known for its tangy flavors and dense textures, can last up to 7-14 days in the fridge. Their longevity is partly due to the acidic environment created by the sourdough starter, which helps inhibit mold growth.
Additionally, these types often have a higher moisture content, which can slow down the staling process. However, like all breads, they will eventually start to lose their freshness due to the cold temperature in the fridge. If you're a fan of sourdough or rye, consider slicing and freezing your loaf to maintain its freshness for longer.
The Impact of Ingredients on Shelf Life
The ingredients used in bread can significantly impact its shelf life. From preservatives to sugar and fat, each ingredient interacts differently with its structure and storage environment.
Preservatives
Many commercial breads contain preservatives like calcium propionate, which inhibit mold growth and extend their shelf life. These preservatives work by creating an environment that's unfavorable for mold, allowing the loaf to last longer before spoiling.
However, these breads may still stale quickly in the fridge due to the cold temperature's effect on starch retrogradation. So, while preservatives can help it last longer, they can't prevent the loss of freshness caused by refrigeration.
Sugar and Fat
Breads with high sugar and fat content, like brioche or sweet rolls, tend to last longer than lean ones. Sugar and fat act as natural preservatives, retaining moisture and slowing down both staling and mold growth.
Sugar attracts water, keeping it bound within the loaf and preventing it from evaporating or encouraging mold growth. Fat, on the other hand, creates a barrier that slows down moisture loss and staling. However, these breads can still stale in the fridge, and their high moisture content can make them susceptible to mold growth if not stored properly.
Best Practices for Storing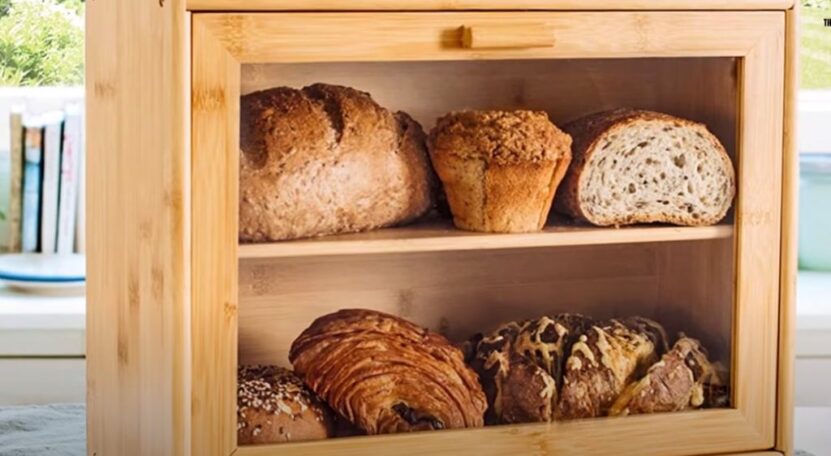 If you choose to store your loaf in the fridge, there are ways to do it right. Proper storage can help maintain its freshness for longer, reducing waste and ensuring you always have a tasty loaf on hand.
Use a Bread Box
A bread box in the fridge can help control moisture and air exposure, slowing down both staling and mold growth. These boxes are designed to provide an optimal storage environment, balancing humidity and air circulation to maintain freshness.
However, it's essential to avoid overcrowding the box as it can lead to increased humidity, promoting mold growth. Make sure there's enough space for air to circulate around each loaf, and check your loaf regularly for any signs of mold or staling.
Use Plastic Bags
Plastic bags can create a barrier against air, one of the main culprits of bread staling. By keeping air out, these bags can help maintain the loaf's moisture and slow down the staling process. However, they can also trap moisture, promoting mold growth.
It's a delicate balance that requires regular checking of the loaf's condition. If you notice condensation in the bag, it may be a sign that there's too much moisture, and you should consider transferring your loaf to a more breathable container or bag.
Bread Staling
Bread staling, or the process by which the loaf loses its freshness, is a complex process that involves both physical and chemical changes. This process, contrary to popular belief, is not merely about moisture loss. It's a complex process involving changes in the starch molecules of the bread.
When the loaf is baked, the starch molecules gelatinize, absorbing moisture and swelling. This gives the bread its soft, moist crumb. However, as the loaf cools, these molecules begin to retrograde, crystallizing and pushing out the absorbed water.
This process, known as staling, results in a firmer, drier texture. While some moisture loss does occur, especially in dry environments, the main culprit behind staling is this change in starch structure.
The Effect of Refrigeration on Bread Staling
Refrigeration can slow down mold growth, but it accelerates staling due to a process called retrogradation. The cold temperature causes the starch molecules in the bread to recrystallize faster, leading to a quicker loss of freshness.
This is why a loaf stored in the fridge often seems to go stale faster than the one stored at room temperature. However, this doesn't mean you should never store bread in the fridge.
For those living in hot, humid climates where mold growth is a bigger concern, or for those who can't consume a loaf quickly enough, refrigeration can help extend the life of the loaf. The key is understanding the trade-off between preventing mold and accelerating staling.
Alternatives to Refrigeration
Refrigeration isn't the only option for storage. Depending on your consumption habits and the type of bread you buy, there may be better ways to maintain its freshness.
Room Temperature Storage
Storing bread at room temperature can actually keep it fresh longer than refrigeration by slowing down the staling process. When stored in a cool, dry place, it can maintain its freshness for several days, with the exact duration depending on the type of loaf and the specific storage conditions.
However, room temperature storage isn't without its risks. A loaf stored at room temperature is more susceptible to mold growth, especially in warm, humid environments. Therefore, it's important to store it in a cool, dry place and consume it within a few days to prevent mold growth.
Freezing: A Long-Term Storage Solution
For long-term storage, freezing is the best option. Freezing halts both staling and mold growth, preserving the loaf's freshness for several months. When you're ready to eat it, thaw it at room temperature and then briefly reheat it in the oven to restore its freshness and texture.
Freezing is especially useful for those who buy bread in bulk or bake their own loaves. By freezing it, you can always have a fresh loaf on hand without worrying about it going stale or moldy.
FAQs:
Does a loaf last longer in the fridge or in a bread box?
It will last longer in a bread box than in the fridge.
How long does packaged white bread last?
It will last for 7-10 days at room temperature.
Can you eat an expired loaf if it was refrigerated?
If it was stored properly in the fridge, it should be safe to eat. However, if it is more than a few days past the expiration date, it's best to throw it out.
How to defrost it?
The best way to thaw bread is to let it sit at room temperature for a few hours. You can also thaw it in the fridge or microwave.
How long does homemade loaf last in the fridge?
It will last for 5-8 days in the fridge.
Conclusion
Storing bread in the fridge can extend its life by slowing down mold growth, but it can also accelerate staling. Whether you choose to refrigerate, freeze, or store your loaf at room temperature, the key is to maintain the right balance of moisture, temperature, and air exposure to keep it fresh and delicious.
So, the next time you buy a loaf of bread, remember these tips and enjoy it at its best!